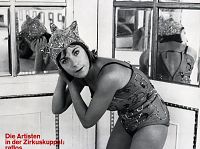 Overview
Original title: ARTISTEN IN DER ZIRKUSKUPPEL: RATLOS, DIE
Genre: Drama
Country, Year of production: D, 1968

Cast
Hannelore Hoger; Alfred Edel; Siegfried Graue; Eva Oertel; Bernd Höltz
Crew
Director: Alexander Kluge
Screenplay: Alexander Kluge
Director of Photography: Thomas Mauch; Günter Hoermann
Producer: Alexander Kluge
You did not have added any film to the request list yet.
ARTISTS UNDER THE BIG TOP: PERPLEXED, THE
The artist Leni (Hannelore Hoger) plans the circus of the future. She wants to show the animals authentically and not as dressed-up people. In the face of this inhuman situation, the artists are to increase the degree of difficulty of their art. But her plan goes awry. She approaches a television company as she looks upon her knowledge of the technique of this art as a basis for her attempts to change her world. Parable made by Alexander Kluge.
Awards
1968 Venedig Int. Filmfestival / Biennale – Goldener Löwe (Alexander Kluge)
1969 Deutscher Filmpreis (Lola) – Filmband in Gold