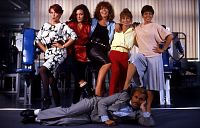 Overview
Original title: ANDRE SCHAFFT SIE ALLE
Genre: Action; Comedy
Country, Year of production: D, 1984

Cast
Franco Nero; Ingrid Steeger; Willeke van Ammelrooy; Dolores Schmidinger; Maja Maranow
Crew
Director: Peter Fratzscher
Screenplay: Josef Ebner; Micki Knox; Gerd Haenel
Director of Photography: Bernd Heinl
You did not have added any film to the request list yet.
ANDRE HANDLES THEM ALL
A stunt man permanently tries to conquer the heart of a few women to get the money together for his karate school. But he ends up confused because the ladies unite and all confess their love towards him. He must take a decision and flees to the beach...