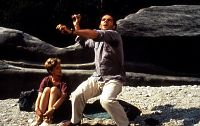 Overview
Original title: AM ENDE DER NACHT
Genre: Drama
Country, Year of production: CH, 1992

Cast
Peter von Strombeck; Jessica Früh; Eva Scheurer; Peter Bollag; René Schönenberger
Crew
Director: Christoph Schaub
Screenplay: Martin Witz
Director of Photography: Ciro Cappellari
Producer: Susanne Ruedlinger
You did not have added any film to the request list yet.
At THE END OF THE NIGHT
Up to the day he committed his insane deed Robert Tanner never did anything to be noticed in any particular way. The closer he came to the action he was to take, the more his awareness of it seemed to desert him, as if under the effect of some inner oppression. The tragedy took place during the night of Sunday to Monday. Tanner killed his wife and then Benny, his young son.