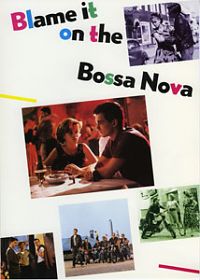 Overview
Original title: SCHULD WAR NUR DER BOSSA NOVA
Genre: Drama; Comedy
Country, Year of production: D, 1992

Cast
Muriel Baumeister; Benno Fürmann; Christian Standke; Jürgen Vogel; Fiona Schwartz
Crew
Director: Bernd Schadewald
Screenplay: Bernd Schadewald
Director of Photography: Ingo Hamer
Producer: Ingrid von Pochhammer
You did not have added any film to the request list yet.
BLAME IT ON THE BOSSA NOVA
The longings, disappointments and hopes of some teenagers in the summer of 1963 in a small German town. Two friends have finished their apprenticeship and are in love with the same girl. While the more showy of them is conquering the girl, the quieter feels deeply disappointed. Finally, long concealed conflicts break out when the girl gets pregnant...