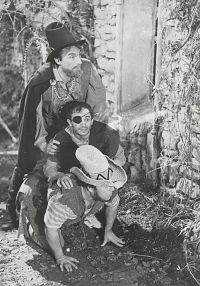 Overview
Original title: BREMER STADTMUSIKANTEN, DIE
Genre: Family; Sci-Fi / Fantasy
Country, Year of production: D, 1959
Prädikat: wertvoll

Cast
Peter Thom; Max Bössl; Christa Welzmüller; Toni Mang; Peter Brand
Crew
Director: Rainer Geis
Screenplay: Hubert Schonger
Director of Photography: Peter Puluj
Producer: Hubert Schonger
Musik: Raimund Rosenberg
You did not have added any film to the request list yet.
BREMEN TOWNMUSICIANS, THE
Once upon a time? an old, frail donkey, a dog, a cat and a cock. Their owners thought them "old and useless" and sent them away. Hence, they became friends and went to try their luck as musicians in Bremen. On their way there, in the middle of a dark forest they came upon a house of Bandits. But through cunning and cleverness they defied the Bandits?