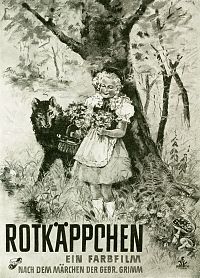 Overview
Original title: ROTKAEPPCHEN
Genre: Family; Sci-Fi / Fantasy
Country, Year of production: D, 1954

Cast
Maren Inken Bielenberg; Elinor von Wallerstein; Wolfgang Eichberger; Ellen Frank
Crew
Director: Walter Janssen
Screenplay: Konrad Lustig
Director of Photography: Wolfgang Schwan
Producer: Hubert Schonger
You did not have added any film to the request list yet.
LITTLE RED RIDING HOOD
Little Red Riding Hood is sent by her Mother to take cake and wine to her ill Grandmother. Her Grandmother lives in small house by the edge of the forest, so her Mother warns her to stay on the path and not to talk to anybody. On her way Little Red Riding Hood meets the Big Bad Wolf who feels her out. Cunningly he creeps into the Grandmother's house and eats her. But with the help of the Forest Ranger Little Red Riding Hood can save her Grannie?