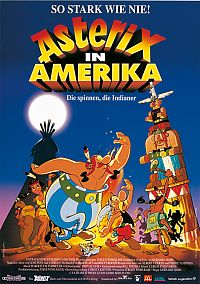 Overview
Original title: ASTERIX ET LES INDIENS
Genre: Animation; Family; Comedy
Country, Year of production: F; D, 1994

Crew
Director: Gerhard Hahn
Screenplay: Rhett Rooster; Thomas Platt; Pierre Tchernia; Albert Uderzo
Director of Photography: Thorsten Falke; Barry Newton
Producer: Jürgen Wohlrabe
Literaturvorlage: Albert Uderzo; René Goscinny
You did not have added any film to the request list yet.
ASTERIX CONQUERS AMERICA
The year 50 B.C., the whole of Gaul is occupied by the Romans. Well, not entirely?One small village of indomitable Gauls still holds out against the invaders, thanks to a magic potion brewed by the druid Getafix. When Caesar realizes the source of the Gauls' strength, he orders Getafix to be abducted and sent across the sea to be pushed over the edge of the world. Luckily, the abductors land in America and fall into the hands of an Indian tribe. Asterix and Obelix follow the Roman expedition. And while Asterix and Getafix are chained to the stake, Obelix saves the Chief's daughter and can thus save his friends too. The twisty Indian Medicine Man continues to mistrust the new arrivals but Asterix manages to expose the charlatan. In the nick of time Asterix, Obelix and Getafix return to Gaul to save their village from the Romans. Based on the comic books by Goscinny and Uderzo which have been translated in over 100 languages.