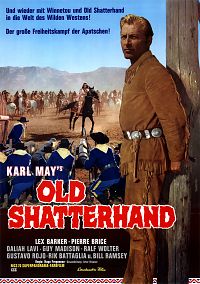 Overview
Original title: OLD SHATTERHAND
Genre: Western; Adventure
Country, Year of production: D; F; I; YU, 1963-1964

Cast
Lex Barker; Pierre Brice; Daliah Lavi; Guy Madison; Gustavo Rojo; Ralf Wolter; Rik Battaglia; Bill Ramsey
Crew
Director: Hugo Fregonese
Screenplay: Ladislas Fodor; Robert A. Stemmle
Director of Photography: Siegfried Hold
Producer: Artur Brauner
You did not have added any film to the request list yet.
APACHES LAST BATTLES
In order to prevent a peace treaty from returning valuable grazing land to the Apaches, settlers stage ambushes to pin the blame on Chief Winnetou's tribe. He and Old Shatterhand set out to find the real culprits. The trail of deception leads the two men to the fort of the U.S. Cavalry. The settlers, it turns out, aren't the only ones who want to sabotage the peace treaty. When Old Shatterhand is thrown into the stockade by Bradley, a commanding officer, Winnetou goes on the war path to save his blood brother.