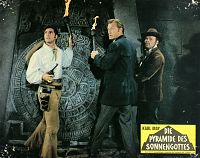 Overview
Original title: PYRAMIDE DES SONNENGOTTES, DIE
Genre: Western; Adventure
Country, Year of production: D; F; I, 1965

Cast
Lex Barker; Gérard Barray; Rik Battaglia; Michèle Girardon; Theresa Lorca; Hans Nielsen; Alessandra Panaro; Gustavo Rojo; Ralf Wolter
Crew
Director: Robert Siodmak
Screenplay: Georg Marischka; Robert A. Stemmle; Ladislas Fodor
Director of Photography: Siegfried Hold
Producer: Artur Brauner
You did not have added any film to the request list yet.
PYRAMID OF THE SUN GOD
This is the 1965 sequel to The Treasure of the Aztecs, directed by Robert Siodmak. Karl Sternau and his companions are taken prisoner by a group of villains. They are imprisoned together with Princess Jarja, trapped in the labyrinth located under the pyramid of the sun god. They succeed in escaping, but they are beaten to the treasure by their abductors. This culminates in a thrilling showdown?