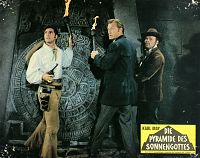 Overview
Original title: PYRAMIDE DES SONNENGOTTES, DIE
Genre: Western; Adventure
Country, Year of production: D; F; I, 1965

Cast
Lex Barker; Gérard Barray; Rik Battaglia; Michèle Girardon; Theresa Lorca; Hans Nielsen; Alessandra Panaro; Gustavo Rojo; Ralf Wolter
Crew
Director: Robert Siodmak
Screenplay: Georg Marischka; Robert A. Stemmle; Ladislas Fodor
Director of Photography: Siegfried Hold
Producer: Artur Brauner
You did not have added any film to the request list yet.
PYRAMID OF THE SUN GOD
The injured Dr. Sternau and his friend Hasenpfeffer are being held captive together with the Aztec princess Karja in the subterranean labyrinths of the pyramid of the sun god. Since they have seen the unimaginable riches that are stored in this huge cavernous landscape, the High Priest Flathouani, the keeper of the treasures of an ancient Indian cult, wants to kill the white intruders. Finally, they are able to escape. Unfortunately, they realize that the evil treasure hunter Verdoja, accompanied by his army of bandits, has gained access to the hiding place of the Aztec treasure... Sequel to " Treasure of the Aztecs"