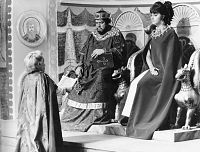 Overview
Original title: KAMPF UM ROM I
Genre: Drama; Adventure; History
Country, Year of production: D; I; RO, 1968

Cast
Laurence Harvey; Orson Welles; Sylva Koscina; Robert Hoffmann; Honor Blackman; Harriet Andersson; Ewa Strömberg
Crew
Director: Robert Siodmak
Screenplay: Ladislas Fodor; David Ambrose
Director of Photography: Richard Angst
Producer: Artur Brauner
You did not have added any film to the request list yet.
FIGHT FOR ROME I, THE
The First Part of Robert Siodmak's monumental two-part epic about the fall of Rome and the invasion of the Goths around 500 AD. After the death of the Gothic king Theoderic the Great Roman nobleman Cethegus (Lawrence Harvey) aims to lead Rome back to former grandeur by playing out the Goths against Byzantine Emperor Justinian (Orson Welles). A story of intrigue, love and betrayal. One of Europe's most expensive productions at the time. Based upon the novel by German author and historian Felix Dahn.