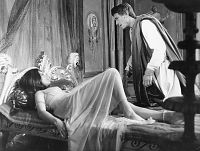 Overview
Original title: KAMPF UM ROM II
Genre: Drama; Adventure; History
Country, Year of production: D; I; RO, 1968

Cast
Laurence Harvey; Orson Welles; Sylva Koscina; Honor Blackman; Robert Hoffmann; Harriet Andersson; Ewa Strömberg
Crew
Director: Robert Siodmak
Screenplay: Ladislas Fodor; David Ambrose
Director of Photography: Richard Angst
Producer: Artur Brauner
You did not have added any film to the request list yet.
FIGHT FOR ROME II, THE
Sequel to the epic film by Robert Siodmak based on the bestseller by Felix Dahn: The Goths, lead by their new king Totila, lay siege to Rome. The Byzantine general Narses has been sent to Rome with his army by order of Emperor Justinian. After his arrival, he commissions Cathegus to command a part of his troops. The Gothic army is not strong enough to defeat the unified fighting strength of the Byzantines and the Romans. King Totila is killed and the survivors flee to the ocean, where they are saved by the fleet of the Norwegian King Harald..