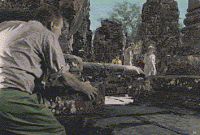 Overview
Original title: HERRIN DER WELT - TEIL II
Genre: Adventure
Country, Year of production: D; I; F, 1959-1960

Cast
Leon Askin; Gino Cervi; Martha Hyer; Hans Nielsen; Wolfgang Preiss; Micheline Presle; Charles Régnier; Sabu; Carlos Thompson; Lino Ventura
Crew
Director: William Dieterle
Screenplay: Harald G. Petersson; Jo Eisinger
Director of Photography: Richard Angst
Producer: Artur Brauner
You did not have added any film to the request list yet.
MISTRESS OF THE WORLD - PART 2
Professor Johansen, who has discovered a secret formula which can be used to cut off electrical power on entire continents, has been kidnapped and is nowhere to be found. His daughter Karin's search brings her as far as Cambodia, where she is able - with the help of her friends - to eliminate the power-hungry woman boss of a secret organization and find her father again. Sequel to the "Mistress of the World - Part I"