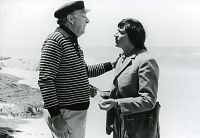 Overview
Original title: ARDIENTE PACIENCIA
Genre: Drama; Romance
Country, Year of production: D; P; RCH, 1983

Cast
Roberto Parada; Oscar Castro; Marcela Osorio; Naldy Hernandez; Antonio Skarmeta; Miguel Viqueira
Crew
Director: Antonio Skarmeta
Screenplay: Antonio Skarmeta
Director of Photography: Joao Abel Aboim
Producer: Henrique Espirito Santo
Literaturvorlage: Antonio Skarmeta
You did not have added any film to the request list yet.
ARDIENTE PACIENCIA (Original title)
The friendship between the Chilean poet Pablo Neruda and his postman as a mirror of Chilean history during the time of the Union Popular and the military coup in 1973. This very humorous and poetical film, based on the book of Antonio Skármeta, gives a hopeful look back on the days before the military dictatorship in Chile.