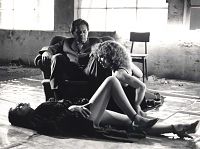 Overview
Original title: EIN BLICK UND DIE LIEBE BRICHT AUS
Genre: Documentary; Drama
Country, Year of production: D, 1986

Cast
Elida Araoz; Rosario Blefari; Regina Lamm; Margarita Munoz; Marie Elena Rivera
Crew
Director: Jutta Brückner
Screenplay: Jutta Brückner
Director of Photography: Marcelo Camorino
Producer: Joachim von Vietinghoff
You did not have added any film to the request list yet.
EIN BLICK UND DIE LIEBE BRICHT AUS (Original title)
Romantic wishes are so gigantic that they are unable to express themselves, they are mute. Exploitation, sexism, defloration and submission shown as stations of women´s misery. This film reflects the debate of feminism of the last years, accompanied by off-comments and tango rhythms - it provokes discussions.
Awards
1987 Preis der deutschen Filmkritik – Bester Film (Jutta Brückner)