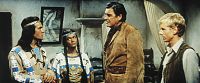 Overview
Original title: WINNETOU UND SEIN FREUND OLD FIREHAND
Genre: Western; Adventure
Country, Year of production: D; YU, 1966

Cast
Pierre Brice; Rod Cameron; Marie Versini; Harald Leipnitz; Viktor de Kowa; Todd Armstrong; Rik Battaglia
Crew
Director: Alfred Vohrer
Screenplay: Harald G. Petersson; David DeReske; C.B. Taylor
Director of Photography: Karl Löb
Producer: Horst Wendlandt
You did not have added any film to the request list yet.
THUNDER AT THE BORDER
The brutal Siler gang is on Winnetou's watch list. Four Apaches have recently been killed. Ntscho-Tschi, heavily hurt, barely escaped the murderers. Legendary Old Firehand asks his friend Winnetou for help: Siler's brother is locked up in the prison of Miramonte. If he should not be free soon, Siler threatens to transform the small border town into a sea of flames. Winnetou does not hesitate for a moment to help defend Miramonte with his silver rifle...