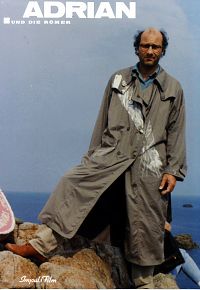 Overview
Original title: ADRIAN UND DIE ROEMER
Genre: Comedy
Country, Year of production: D, 1987

Cast
Klaus Bueb; Gertraud Jesserer; Katharina Abt; Sabine von Maydell; Hark Bohm; Ulrich Wildgruber
Crew
Director: Klaus Bueb
Screenplay: Klaus Bueb
Director of Photography: Thomas Mauch
Producer: Ottokar Runze
You did not have added any film to the request list yet.
ADRIAN AND THE ROMANS
A forty-something struggling unsuccessfully with a "mid life crisis" stumbles from one absurd adventure to the next. Only through a complicated reunion with an ex-girlfriend from his college days and her daughter does he seem to get a hold of his life.