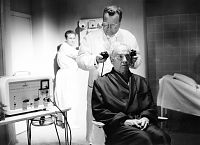 Overview
Original title: TODESSTRAHLEN DES DR. MABUSE, DIE
Genre: Crime; Thriller
Country, Year of production: D; F; I, 1964

Cast
Peter van Eyck; O. E. Hasse; Yvonne Furneaux; Wolfgang Preiss; Rika Dialina; Yoko Tani; Walter Rilla; Dieter Eppler
Crew
Director: Hugo Fregonese
Screenplay: Ladislas Fodor
Director of Photography: Riccardo Pallottini
Producer: Artur Brauner
Musik: Carlos Diernhammer; Oskar Sala
You did not have added any film to the request list yet.
DR. MABUSE'S RAYS OF DEATH
Doctor Mabuse again tries to conquer the world, this time utilizing the awesome powers of a death ray. Major Bob Anders of the British Secret Service follows his trail from the insane asylum from which he escapes to the island of Malta where a professor is developing a secret weapon in a underwater laboratory. But Dr. Mabuse has his many disguises to gain access to the lab. Will Anders be able to unmask him in time? The last in the series of German Dr. Mabuse films produced during the 1960's.