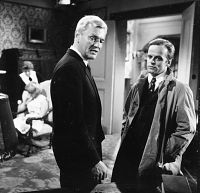 Overview
Original title: SCOTLAND YARD JAGT DR. MABUSE
Genre: Thriller; Crime; Sci-Fi / Fantasy
Country, Year of production: D, 1963

Cast
Sabine Bethmann; Dieter Borsche; Klaus Kinski; Hans Nielsen; Werner Peters; Wolfgang Preiss; Peter van Eyck; Agnes Windeck
Crew
Director: Paul May
Screenplay: Ladislas Fodor
Director of Photography: Nenad Jovicic
Producer: Artur Brauner
Literaturvorlage: Bryan Edgar Wallace
You did not have added any film to the request list yet.
DR. MABUSE VS. SCOTLAND YARD
Declared legally dead, the evil, megalomaniac Mabuse continues to exercise his influence from beyond the grave. The doctor's spirit takes over the body and mind of a kind and above-reproach psychiatrist and then murders a Hamburg professor to gain possession of his latest invention - an electronic device that can control people's minds. Scotland Yard and Hamburg's top police inspectors have to stop the ensuing crime wave as well as prevent the insidious doctor from assembling more such devices - but they're always one step behind the sinister Dr. Mabuse. A young Klaus Kinski is featured in this exciting sci-fi laden crime thriller.