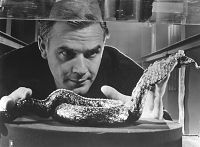 Overview
Original title: FLUCH DER GELBEN SCHLANGE, DER
Genre: Thriller; Crime
Country, Year of production: D, 1962-1963

Cast
Joachim Fuchsberger; Fritz Tillmann; Pinkas Braun; Doris Kirchner; Charles Régnier; Eddi Arent; Brigitte Grothum
Crew
Director: Franz Josef Gottlieb
Screenplay: Franz Josef Gottlieb; Janne Furch
Director of Photography: Siegfried Hold
Producer: Artur Brauner
Musik: Raimund Rosenberger
Literaturvorlage: Edgar Wallace
You did not have added any film to the request list yet.
CURSE OF THE YELLOW SNAKE,THE
A Chinese cult bent on taking over the world uses an idol called The Golden Reptile that they believe can give them the power to achieve their goal. This idol is stolen in Hong Kong and finds its way to London, where the Chinese Cult wants to start its fight to take over the world.