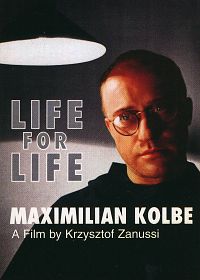 Overview
Original title: ZYCIE ZA ZYCIE
Genre: Drama; Biography
Country, Year of production: PL; D, 1991

Cast
Artur Barcis; Christoph Waltz; Edward Zentara
Crew
Director: Krzysztof Zanussi
Screenplay: Krzysztof Zanussi; Jan Jozef Szczepanski
Director of Photography: Edward Klosinski
Producer: Roswitha Frankenhauser; Michal Szczerbic
Musik: Wojziech Kilar
You did not have added any film to the request list yet.
LIFE FOR LIFE - MAXIMILIAN KOLBE
July 1941 - The young Silesian Jan escaped fom the concentration camp Auschwitz. For this fugitive the camp commander Fritsch condemns ten prisoners to go into the starvation bunker. When one of them collapses under this sentence of death the Franciscan prioest Maximilian Maria Kolbe sacrifices his own life instead. From now on Jan is not only fleeing from the Gestapo but also from his own guilt, his involvement in Kolbe's death...