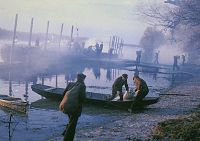 Overview
Original title: LAURIN
Genre: Horror; Mystery; Thriller
Country, Year of production: D; H, 1989

Cast
János Derzsi; Károly Eperjes; Brigitte Karner; Dóra Szinetár; Hédi Temessy; Barnabás Tóth
Crew
Director: Robert Sigl
Screenplay: Robert Sigl; Adam Rozgonyi
Director of Photography: Nyika Jancso
Producer: Andreas Bareiss; Bernhard Stampfer
Musik: Hans Jansen; Jacques Zwart
You did not have added any film to the request list yet.
LAURIN: A JOURNEY INTO DEATH
Strange goings on in an idyllic harbour town. Children disappear without trace. Death, in the form of a man in black, seems to plague the area. Laurin is haunted by gloomy dreams and hallucinations, fantastic images of a man heaving a sack, children drumming in fear against closed windows. All this combines to create a terrible mosaic for Laurin, who by unravelling the secret puts her own life at risk.
Awards
1989 Bayerischer Filmpreis – Beste Nachwuchsregie (Robert Sigl)
1989 Nominated for: Max Ophüls Preis (Filmfestival) – Max Ophüls Preis (Robert Sigl)