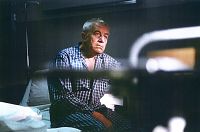 Overview
Original title: ZYCIE JAKO SMIERTELNA CHOROBA PRZENOSZONA DROGA PLCIOWA
Genre: Drama
Country, Year of production: PL; F, 2000

Cast
Szymon Bobrowski; Tadeusz Bradecki; Aleksander Fabisiak; Krystyna Janda; Monika Krzywkowska; Pawel Okraska; Jerzy Radziwilowicz; Zbigniew Zapasiewicz
Crew
Director: Krzysztof Zanussi
Screenplay: Krzysztof Zanussi
Director of Photography: Edward Klosinski
Producer: Iwona Ziulkowska
Musik: Wojziech Kilar
You did not have added any film to the request list yet.
LIFE AS A FATAL SEXUALLY TRANSMITTED DISEASE
Tomasz, a physican in his sixties, works on the set of a film about Saint Bernard, who prepares a horse thief for death. Intelligent but moody, Tomasz suspects he might be terminally ill. A series of edical tests only confirms his suspicion. A desire awakens in Tomasz to deny all moral values he used to cherish and to prove them wrong. Pretending to be a friend, he tries to destroy a young couple´s love, engages in a game with a young priest, hoping to hear the confessions of his lost faith, and finally gets ready to commit suicide. Nonetheless he never stops waiting for a sign, a spiritual force to guide him in life. The sign comes, unexpectedly, in a hospital room.
Awards
2000 Moskau Int. Filmfestival – Preis in Gold (Krzysztof Zanussi)
2000 Polnisches Filmfestival – Goldener Löwe (Krzysztof Zanussi)
2000 Polnisches Filmfestival – Preis für Bester Darsteller (Zbigniew Zapasiewicz)
2001 Polnischer Filmpreis (Adler) – Bester Film (Iwona Ziulkowska)