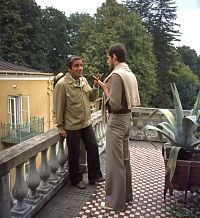 Overview
Original title: BARWY OCHRONNE
Genre: Drama; Comedy
Country, Year of production: PL, 1977

Cast
Mariusz Dmochowski; Piotr Garlicki; Christine Paul-Podlasky; Zbigniew Zapasiewicz
Crew
Director: Krzysztof Zanussi
Screenplay: Krzysztof Zanussi
Director of Photography: Edward Klosinski
Musik: Wojziech Kilar
CAMOUFLAGE
Jaroslaw, a young philologist, finds out that the academic world is ruled by cowardly conformists. His colleagues are slaves to the dumb, dishonest deputy rector who only cares about his own interests. Jakub, a diabolic professor, makes use of his intellect to manipulate others. He tries to introduce his younger colleague to the secret rules of academic careers. He ruthlessly uproots Jaroslaw's youthful idealism by showing that academic success is often available to those cynical and ruthless rather than those with a true talent. The film is a classic of "moral unrest" cinema. The academic world is a metaphor of the state system where compromise is a necessity that pays off. To compromise, to trade off interests is part of the "life game" played in Poland that time. The director seems to ask: will straightforwardness and honesty always have to lose in the individual's confrontation with society?
Awards
1977 Polnisches Filmfestival – Goldener Löwe (Krzysztof Zanussi)
1977 Polnisches Filmfestival – Preis für Bester Darsteller (Zbigniew Zapasiewicz)
1977 Polnisches Filmfestival – Preis für Bestes Drehbuch (Krzysztof Zanussi)

You did not have added any film to the request list yet.