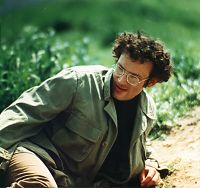 Overview
Original title: ILUMINACJA
Genre: Drama
Country, Year of production: PL, 1973

Cast
Monika Dzienisiewicz-Olbrychska; Stanislaw Latallo; Malgorzata Pritulak; Jan Skotnicki; Edward Zebrowski
Crew
Director: Krzysztof Zanussi
Screenplay: Krzysztof Zanussi
Director of Photography: Edward Klosinski
Musik: Wojziech Kilar
ILLUMINATION
Franciszek Retman, a student of physics, is looking for the meaning of life. He tries to find the gist of existence in gaining knowledge and experiencing love. The duties he must face make him realize that one is not always the forger of one's fate but sometimes has to submit to external circumstances. Franciszek marries his transient lover Malgosia when she becomes pregnant. Later he has to leave the University and take up a job to provide for his wife and child. He is still bothered by the fundamental existential questions. He wants to penetrate the nature of death, spends some time in a hermits' monastery only to return to his family, studies, and mundane existence.The illumination announced in the film's title is the moment of sudden enlightenment that saints, wise and learned men are said to have experienced. Not everyone can be granted that moment. It is much more frequent for people to have to cope with doubts all their lives and make choices without being completely clear about the reasons. Franciszek Retman is a thinking man faced with the phenomenon of life. His doubts and uncertainty are shared by many.
Awards
1973 Locarno Int. Filmfestival – Goldener Leopard (Krzysztof Zanussi)
1973 Locarno Int. Filmfestival – Preis der ökumenischen Jury (Krzysztof Zanussi)
1974 Polnisches Filmfestival – Spezialpreis der Jury (Krzysztof Zanussi)

You did not have added any film to the request list yet.