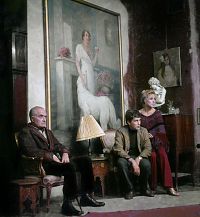 Overview
Original title: ZYCIE RODZINNE
Genre: Drama
Country, Year of production: PL, 1971

Cast
Maja Komorowska; Jan Kreczmar; Halina Mikolajska; Jan Nowicki; Daniel Olbrychski
Crew
Director: Krzysztof Zanussi
Screenplay: Krzysztof Zanussi
Director of Photography: Witold Sobocinski
Musik: Wojziech Kilar
FAMILY LIFE
Vit, 30, works for an architectural design studio in Silesia. One day he receives a message from home, urging him to visit his sick father. Vit goes to a small town near Warsaw. The sickness turns out to be an excuse. The father wants Vit to take responsibility for the family. Vit however refuses to be a saviour for his relatives whose lifestyle he despises. His father is an alcoholic, his sister Bella a nyphomanic, his aunt slovenly and extravagant. Vit leaves failing to meet their expectations. The question of whether one has the right to cut away from one´s family if they threaten one´s individuality and prevent one from achieving important personal targets opened a hot debate in the press.
Awards
1971 Nominated for: Cannes Int. Filmfestspiele – Goldene Palme (Krzysztof Zanussi)

You did not have added any film to the request list yet.