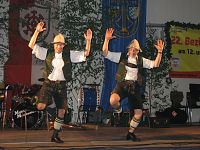 Overview
Original title: PLATTLN IN UMTATA - MIT DER BIERMOESL BLOSN IN AFRIKA
Genre: Documentary; Music
Country, Year of production: D, 2007

Cast
Biermösl Blosn; Gerhard Polt
Crew
Director: Peter Heller
Screenplay: Peter Heller
Director of Photography: Otmar Schmid; Peter Heller; Klaus Lautenbacher
Producer: Peter Heller
You did not have added any film to the request list yet.
SHOESLAPPING IN AFRICA
About Upper Bavaria and Zulu warriors, about Harfengstanzel'n (harp dance music), about Schuhplattler (shoe slappers) and Gumboot Dance - a cultural dialogue through music and dance. In a far away land and in the deepes south, in the melting pot of the cultures at the other end of the world the people of Africa meet the satirist artists from conservative Bavaria. The trio of the Well brothers, taking dancing classes and performing Jam sessions, discover, in an astonishing way, the rhythms of the suburbs in the living subcultures of the ghettos and away from all stereotypes and prejudices, they get to know the New and the Other: The rebellious folk musicians and Alpine partisans recognise unexpected parallels down in South Africa: the "Gumboot Dance" of the South African gold miners resembles the "Schuhplattler", the courtship-display-dance from the Bavarian mountainous region, almost completely? Therefore this "Plattler" of the black miners tells the Biermösl Blosn about the history of South Africa and Namibia: stories of racial segregation, apartheid and colonial veal sausages under the equator - or how the Schuhplattler came to Africa?