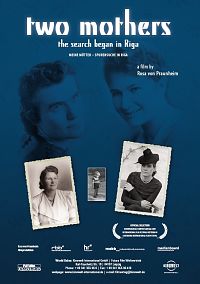 Overview
Original title: MEINE MUETTER - SPURENSUCHE IN RIGA
Genre: Documentary; Biography
Country, Year of production: D, 2007

Cast
Rosa von Praunheim
Crew
Director: Rosa von Praunheim
Screenplay: Rosa von Praunheim
Director of Photography: Thomas Ladenburger; Markus Tiarks; Elfi Mikesch
Producer: Rosa von Praunheim
Sprecher: Rosa von Praunheim
TWO MOTHERS - THE SEARCH BEGAN IN RIGA
Tracing my two mothers in Riga is my personal history. I was born Holger Mischwitzky in Riga, Latvia, on November 25th, 1942. In 2000, my then 94-year-old mother told me I was not her son and that she had found me in a children's home in Riga during the German occupation. That was all she was prepared to say. She died in 2003. Initially I didn't want to start searching, she had been a loving mother to me. Two years later I did become curious, but not knowing my real family name, I thought searching would be futile. With the help of a Latvian journalist I met Agnese who discovered intriguing things in the national archive. Amazingly enough, I eventually found my real birth certificate in Berlin which stated that I had been born in Riga in the central prison in 1942. I start searching for my mother. Will I find her or her family? Will I be able to find out something about my father? After 63 years, I decide to fly to Riga and start searching for my two mothers' traces.
Awards
2008 Nominated for: Tribeca Film Festival – Beste Dokumentation (Rosa von Praunheim)

You did not have added any film to the request list yet.