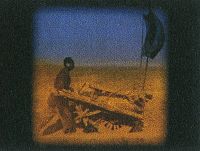 Overview
Original title: ANGRIFF DER GEGENWART AUF DIE UEBRIGE ZEIT, DER
Genre: Drama; Documentary
Country, Year of production: D, 1985

Cast
Alfred Edel; Rosemarie Fendel; Jutta Hoffmann; Armin Mueller-Stahl; Hans-Michael Rehberg; Peter Roggisch; Rosel Zech
Crew
Director: Alexander Kluge
Screenplay: Alexander Kluge
Director of Photography: Judith Kaufmann; Werner Lüring; Thomas Mauch; Hermann Fahr
Producer: Alexander Kluge; Willi Segler
You did not have added any film to the request list yet.
ASSAULT OF THE PRESENT ON THE REST OF TIME, THE
An episode film that "bids farewell to classical cinema" (A. Kluge). Fragments of reality that all still strictly follow one thought - how one moment in time can swallow up everything that has happened beforehand and afterwards. There's the daughter of the porter couple in Warsaw who surrenders herself to a German soldier in order to preserve the historical Polish film treasures. There is the completely indispensable one, who suddenly becomes unnecessary because the boss prefers someone else. There are the hurried ones, who restlessly rush around the world in order to make decisions that are constantly becoming less meaningful. There is the young surrogate mother, who doesn't want to give back the child until the parental guardians listen to her suggestions on how to care for it. And finally, there is a famous director who goes blind during filming and still continues, because his head is full of images. Although even Alexander Kluge can't manage without individual persons, this movie is not about individual destinies, but rather - so shortly before the end of a murderous century, or better said a millennium - the fate of mankind. The individuals only serve to deliver the necessary proof.
Awards
1986 Deutscher Filmpreis (Lola) – Filmband in Silber
1986 Nominated for: Deutscher Filmpreis (Lola) – Filmband in Gold für Bester Film