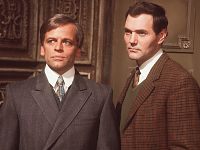 Overview
Original title: BLAUE HAND, DIE
Genre: Thriller; Crime
Country, Year of production: D, 1967

Cast
Harald Leipnitz; Klaus Kinski; Carl Lange; Siegfried Schürenberg; Ilse Steppat; Diana Körner
Crew
Director: Alfred Vohrer
Screenplay: Herbert Reinecker
Director of Photography: Ernst W. Kalinke
Producer: Horst Wendlandt
Literaturvorlage: Edgar Wallace
You did not have added any film to the request list yet.
CREATURE WITH THE BLUE HAND
A Clergy Man with an iron claw, called "the blue hand", roams around castle Gentry, killing people. He tries to eliminate all Lord Emerson's inheriting relatives. Only Dave Emerson (Klaus Kinski) who escaped from the lunatic asylum and his sister Myrna succeed in getting away from these evil powers. Scotland Yard's Superintendent Craig tries to solve the tricky case...