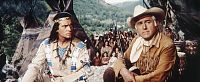 Overview
Original title: OELPRINZ, DER
Genre: Western; Adventure
Country, Year of production: D; YU, 1965

Cast
Walter Barnes; Pierre Brice; Heinz Erhardt; Paddy Fox; Gerhard Frickhöffer; Stewart Granger; Terence Hill; Vladimir Leib; Harald Leipnitz; Macha Méril; Antje Weisgerber
Crew
Director: Harald Philipp
Screenplay: Harald Philipp; Fred Denger
Director of Photography: Heinz Hölscher
Producer: Horst Wendlandt
You did not have added any film to the request list yet.
RAMPAGE AT APACHE WELLS
The Oil Prince, a merciless businessman, is planning a lucrative trade with the Western Arizona bank: He wants to sell them oil wells at the Shelly lake, which do not exist. Unfortunately, a trek of settlers get in his way, above all, colonizing right at the banks of the particular lake. The Oil Prince exchanges the settlers scout, in order to mislead the trek onto another route. But soon he must recognize, that he had not thought of Winnetou's and Old Surehand's willpower....