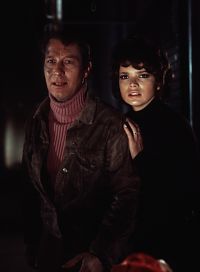 Overview
Original title: TOTE AUS DER THEMSE, DIE
Genre: Thriller; Crime
Country, Year of production: D, 1971

Cast
Hansjörg Felmy; Uschi Glas; Werner Peters; Siegfried Schürenberg; Günther Stoll; Ivan Desny; Vadim Glowna; Petra Schürmann; Ingrid Steeger; Harry Riebauer; Lydia Bauer
Crew
Director: Harald Philipp
Screenplay: Harald Philipp; Horst Wendlandt
Director of Photography: Karl Löb
Producer: Horst Wendlandt
Musik: Peter Thomas
Literaturvorlage: Edgar Wallace
You did not have added any film to the request list yet.
DEAD ONE IN THE THAMES RIVER, THE
London - the attractive dancer Myrna Fergusson is brutally murdered in a third class hotel. The circumstances of the murder puzzles Scotland Yard, because when Inspector Craig (Hans Jörg Felmy) arrives at the crime scene, the victim had vanished. Finally the identity of the disappeared is cleared and Inspector realizes, that Myrna Fergusson is an old acquaintance - she was a member of an international narcotic ring and informant for Scotland Yard. Suddenly Myrna´s pretty sister Danny (Uschi Glas) shows up. Craig teams up with her to trace the murderer. During the investigations both get deeper involved in an opaque network of narcotic smuggling, treason and deadly danger.