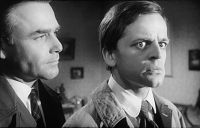 Overview
Original title: TOTEN AUGEN VON LONDON, DIE
Genre: Thriller; Crime
Country, Year of production: D, 1961

Cast
Joachim Fuchsberger; Karin Baal; Dieter Borsche; Wolfgang Lukschy; Klaus Kinski; Eddi Arent; Harry Wüstenhagen; Ida Ehre; Ady Berber; Ann Savo
Crew
Director: Alfred Vohrer
Screenplay: Trygve Larsen
Director of Photography: Karl Löb
Producer: Horst Wendlandt
Literaturvorlage: Edgar Wallace
You did not have added any film to the request list yet.
DEAD EYES OF LONDON, THE
Wealthy and well insured men are being murderd at an alarming rate. Scotland Yards investigations leading to a ring of blind men, led by a mysterious "referend": After another wealthy and well insured man is found death in the Thames, Inspector Holt (Joachim Fuchsberger) doesn't believe in accidents anymore. His assumption that the "dead eyes of London", a gang of blind peddlers are active again seems to be correct. Together with his assistant and the former nurse for blind people Nora Ward he searches for "blind Jack" the former head of the gang. In the course of their investigations they not only get into an asylum for blind managed by the mysterious reverend Dearborn but meet the at first trustworthy lawyer Stephen Judd as well. All the victims have been insured by him?