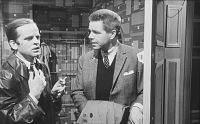 Overview
Original title: TUER MIT DEN SIEBEN SCHLOESSERN, DIE
Genre: Thriller; Crime
Country, Year of production: D; F, 1962

Cast
Heinz Drache; Hans Nielsen; Sabina Sesselmann; Pinkas Braun; Gisela Uhlen; Klaus Kinski; Siegfried Schürenberg; Eddi Arent; Werner Peters; Jan Hendriks
Crew
Director: Alfred Vohrer
Screenplay: Harald G. Petersson; Johannes Kai
Director of Photography: Karl Löb
Producer: Horst Wendlandt
Literaturvorlage: Edgar Wallace
You did not have added any film to the request list yet.
DOOR WITH SEVEN LOCKS, THE
Two man have been killed and on each corpse the police find identical keys. Inspector Martin (Heinz Drache) of Scotland Yard finds traces leading to Lord Selfords castle. Before he died, he gave seven keys to seven of his friends for opening the door to the families fortune.