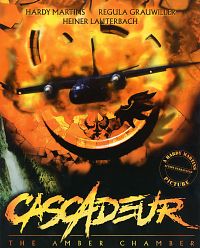 Overview
Original title: CASCADEUR - DIE JAGD NACH DEM BERNSTEINZIMMER
Genre: Action; Adventure
Country, Year of production: D, 1998

Cast
Richard Beek; Regula Grauwiller; Andreas Hoppe; Mario Irrek; Heiner Lauterbach; Hardy Martins; Michael Miensopust; Robert Victor Minich; Eckhard Preuss; Charles Régnier
Crew
Director: Hardy Martins
Screenplay: Uwe Wilhelm; Uwe Kossmann
Director of Photography: Markus Fraunholz
Producer: Hardy Martins; Jimmy Gerum
You did not have added any film to the request list yet.
CASCADEUR - THE AMBER CHAMBER
The Amber Chamber is a room that is studded with millions of pieces of amber. This famous piece of lost art has been missing since World War II. Christin's long-time efforts to find the chamber are thwarted by the "Colonel" (Heiner Lauterbach), who steals the ancient key to the chamber just as Christin's search is nearing success. She turns to Vincent, a stuntman who lives a hermit-like existence deep in the forest, for help.