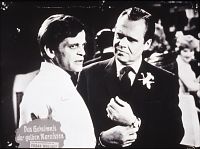 Overview
Original title: GEHEIMNIS DER GELBEN NARZISSEN, DAS
Genre: Thriller; Crime
Country, Year of production: D; GB, 1961

Cast
Joachim Fuchsberger; Sabina Sesselmann; Klaus Kinski; Ingrid van Bergen; Albert Lieven; Christopher Lee; Walter Gotell; Jan Hendriks; Marius Goring; Peter Illing
Crew
Director: Akos Rathonyi
Screenplay: Basil Dawson
Director of Photography: Desmond Dickinson
Producer: Horst Wendlandt
Musik: Keith Papworth
Literaturvorlage: Edgar Wallace
You did not have added any film to the request list yet.
DEVIL'S DAFFODIL, THE
A serial Killer leaves his victims decorated with daffodils. Scotland Yards chief inspector Whiteside is convinced to deal with the sex crimes of a lunatic. Jack Tarling (Joachim Fuchsberger) Chief of Security of Global Airways discovered that artificial daffodils are the means of drug trafficking between Hong Kong and London and together with his colleague Ling Chu (Christopher Lee) tries to hunt down the smugglers. Finally the three of them are able to bring the murder to justice.