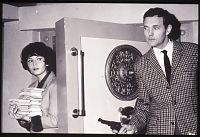 Overview
Original title: GRUFT MIT DEM RAETSELSCHLOSS, DIE
Genre: Thriller; Crime
Country, Year of production: D, 1964

Cast
Judith Dornys; Harald Leipnitz; Rudolf Forster; Klaus Kinski; Werner Peters; Siegfried Schürenberg; Eddi Arent; Vera Tschechowa; Ernst Fritz Fürbringer; Harry Meyen; Ilse Steppat
Crew
Director: Franz Josef Gottlieb
Screenplay: Franz Josef Gottlieb; Robert A. Stemmle
Director of Photography: Richard Angst
Producer: Horst Wendlandt
Musik: Peter Thomas
Literaturvorlage: Edgar Wallace
You did not have added any film to the request list yet.
CURSE OF THE HIDDEN VAULT, THE
Scotland Yard claryfies mysterious murders among the heirs of a large fortune: Years ago casino owner Real has driven the father of Kathleen Kent into committing suicide out of bad conscience he bequests her his large fortune, which is in a safe secured with booby traps, which already have claimed the life of some of his employees. As Kathleen is the only person standing a chance of getting behind these traps she is in imminent danger...