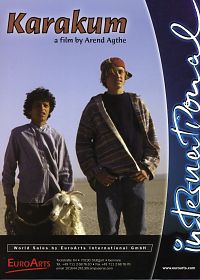 Overview
Original title: KARAKUM
Genre: Adventure; Action; Family
Country, Year of production: D; TM, 1993

Cast
Max Kullmann; Viktor Marosov; Pjotr Olev; Murat Orasov; Alexander Potapov; Neithardt Riedel; Martin Semmelrogge
Crew
Director: Arend Agthe
Screenplay: Usman Saparow; Arend Agthe
Director of Photography: Michael Wiesweg
Producer: Ottokar Runze
You did not have added any film to the request list yet.
KARAKUM - THE DESERT ADVENTURE
This family adventure movie is about 13-year old Robert, who journeys to a remote corner of Central Asia to visit his father, who is working on an engineering project. He boards a truck driven by Pjotr along with his nephew, carrying an expensive turbine. As a sideline, Pjotr is running drugs as well. Things go from bad to worse when the truck breaks down and Pjotr gets injured. Soon the drug lords and Robertīs father are searching for the trio.
Awards
1994 Chicago Int. Children's Film Festival – 2nd place (Arend Agthe)
1994 Cinekid Festival Amsterdam – Cinekid Film Award (Arend Agthe)
1995 Goldener Spatz (Dt. Kinderfilm-Festival) – Bester Film (Kinderjury)
1995 Goldener Spatz (Dt. Kinderfilm-Festival) – Bester Film (Fachjury)