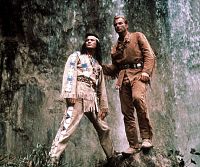 Overview
Original title: SCHATZ IM SILBERSEE, DER
Genre: Western; Adventure
Country, Year of production: YU; D, 1962

Cast
Eddi Arent; Lex Barker; Pierre Brice; Slobodan Dimitrijevic; Karin Dor; Götz George; Marianne Hoppe; Ilija Ivezic; Herbert Lom; Branko Spoljar; Ralf Wolter
Crew
Director: Harald Reinl
Screenplay: Harald G. Petersson
Director of Photography: Ernst W. Kalinke
Producer: Horst Wendlandt
You did not have added any film to the request list yet.
TREASURE AT SILVER LAKE
Winnetou and Old Shatterhand are on the trail of "Colonel" Brinkley an unscrupulous crook who is trying by hook or crook to find the legendary treasure trove of the silver lake. He has killed and kidnapped to get his hands on a secret map of the treasures location. The two blood brothers are repeatedly held up by hostile Indian tribes and have to watch helplessly as Brinkley reaches the treasure cave before they do. Brinkley kills the cave's guard and prepares to snatch what he has looking for so long. But the dying cave guard manages to trip a mechanism, which collapses the cave and all that is inside.